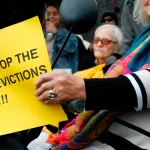 The U.S. government ban on residential evictions expired Saturday at midnight. This eviction moratorium was put on place in late March 2020 and has been extended several times while millions of Americans were out of work due to COVID-19. It is estimated that 11.4 million Americans are now behind on their rent. The Pennsylvania Department of Human Services is taking applications from tenants for aid through Phase 4 of the Emergency Rental Assistance Program.

The evictions process begins with 1) the landlord filing a Complaint in landlord-tenant court; 2) service of the Complaint on tenant (by giving a copy directly to the tenant or post a copy at the leased premises); 3) a hearing in landlord-tenant court is then held. If the tenant has no defense or does not attend the hearing, the landlord will obtain a judgment. Ten days after the judgment, the landlord may
file and serve a writ of possession, which is followed by physical eviction (11 days from the day of service of the writ).

Many Philadelphians may turn to the protections provided by the Bankruptcy Code. Filing a bankruptcy can stop or stay an eviction proceeding temporarily. Upon filing an individual chapter 7 or chapter 13 bankruptcy you are protected by the automatic stay. The automatic stay prevents creditors (e.g. landlords) from starting or continuing collection activity (e.g. evictions) against you. However you must act quickly. Once the landlord has obtained a judgment for possession, the bankruptcy stay may not prevent the eviction process. There is a special exemption to the automatic stay for landlords that allow them to continue with the eviction process if they have obtained a pre-petition judgment.

However, if the bankruptcy is filed prior to the judgment, it will stop or stay the eviction proceedings temporarily. This provides the tenant with:

1) additional time and money to arrange for new living arrangements;
2) an opportunity to negotiate with the landlord to cure the default;
3) an opportunity to negotiate with the landlord to voluntarily vacate the premises at an agreed-upon date; and
4) a discharge for the amount owed in back rent.
What If Your Landlord Obtains a Judgment Against You?
If you file a timely appeal, it has the effect of extinguishing or nullifying the Judgment in landlord-tenant court. But again, you must act quickly. An appeal must be filed within ten (10) days of the Judgment or it can never be filed. Filing a bankruptcy, after perfecting an appeal from landlord-tenant court will temporarily stop the eviction process.
Contact Our Philadelphia Bankruptcy Attorneys
To arrange a free case analysis please contact our Philadelphia bankruptcy lawyers. Serving all of Philadelphia, Pennsylvania.