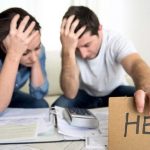 People wait an average of 22 months after their first 90-day past-due notice to file for bankruptcy, according to Brigham Young University and MIT Sloan School of Management researchers. The University of Notre Dame referred to the time leading up to filing as the "sweatbox" in a recent Law Review Article. While it can be overwhelming and taxing on several levels severe financial strain does not usually just go away. Facing it head on, like you would any other life altering issue, is the best way to go. One of the biggest obstacles is knowing where to start in the first place. You may try negotiating settlements with your many different creditors such as your mortgage company, landlord, vehicle lender, credit card companies and medical facilities. It is very time consuming and laborious going this route and not being able work out a deal with just one creditor can impact all other settlements. It is much easier to let our Philadelphia bankruptcy attorneys help you. They will explain all options to you which will allow you to make the best possible decision for your financial future as well as your families.
Individuals who stay in the sweatbox deal with persistent collection calls, creditor harassment, and eventual lawsuits while they are struggling to get out of default and stay afloat. They often go without necessities like healthcare, food, and utilities in the hopes that they can climb out of their financial hole. Delays can often cost individuals to lose homes, cars and other property. Yet they remain ashamed of grabbing that life preserver (I.e. Bankruptcy) which is well within reach.
While in the sweatbox, people suffer damage to their wealth and well-being. Those who wait years to file often experience unnecessary misery and struggle to make ends meet. Meanwhile, financial lenders make the most money during this time. Because while people are on the brink of default, lenders can charge high interest rates and fees.
Staying in the sweatbox causes people to struggle more and more with their bills and results in their debts snowballing to the point where they eventually have no other options. Usually it is a lawsuit, foreclosure or the scheduling of a sheriff sale that causes people to get out of the sweatbox. When they finally consult a bankruptcy attorney they realize that they should have filed a bankruptcy years prior.
The instant relief provided by the filing of the bankruptcy comes from the automatic stay, which requires lenders to immediately stop the harassing calls, lawsuits, foreclosures, repossession, etc. For the first time in years, individuals can catch their breath and look forward to a fresh start.
Don't spend years in the sweatbox. The Philadelphia bankruptcy attorney's at Perloff Law are kind and compassionate. We offer free consultations during which we will analyze your financial situation and determine if a bankruptcy is appropriate. And if so, whether you should file a chapter 13 or a chapter 7. Serving all of Philadelphia, Pennsylvania.